A Visionary Communicator
Jill creates messages, products, visions, books and keynotes that communicate visually and verbally. She is a former NYC corporate executive turned creative artistic entrepreneur of nearly 25 years.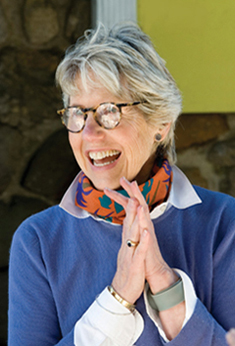 She grew-up in Kalamazoo, Michigan Graduated Stephens College, Columbia, MO. with her degree in Communications and Marketing. Post Stephens College she moved to New York City.
New York City ~ where Jill wanted to be
CBS Broadcasting was the first step into the field of communication followed by twenty-two years in Madison Avenue Advertising, Sales Promotion and Marketing agencies. At Vera Industries,

Vera Scarves and Home Furnishings, Jill became the first woman VP or Senior Vice President in the home furnishings industry.
An entrepreneur at heart, she created Jill Butler, a DesignMarketing, LLC, a Home Furnishings Design Agency team specializing in Color Forecasting and product design for mass retailers like Caldor Stores, JC Penney, Target Stores.
Paris, France was an eight year olds' dream come true
For sixteen years, Jill lived and worked in Paris as a Design Consultant to the Paris based shopping center developer, Espace Expansion. With her American based design partner, Karen Beckwith, they created a Global Concept for new design approaches for shopping center interiors, refitting of old centers, center identity packages including logos, signage, directories, coloration and marketing services programs.
Coming back to the US, the Connecticut River Valley and the villages of Chester and Essex became the home to return to
In reinventing her creative expression, as well as herself, Jill became the creator of The Jill Butler Collection, a nationally distributed French-inspired Tabletop Collection. Three fully illustrated books followed: Paintbrush in Paris, 1994, Rendez-vous with France, 2002, and Wandering Paris, 2005.
Time for a New Vision
Divorce, loss, life changes and the creation of the home/cottage that would support these changes is chronicled in her book, Create the Space You Deserve, birthed August 2008.
Create Design Share
From the loss of her brother, York, July 2007, Birds of a Feather, the York Butler Fund, a fund raising initiative, and JillsBirds'nWords were created.
Clear vision is what gave Jill courage to keep moving and gave her the next step to share through the Creating Your Vision Workshops series.
As a monthly columnist and blogger in the New Haven Register papers: The ShoreLife Times ~ www.shorelinetimes.com she never stops reflecting and expressing what's on her mind!