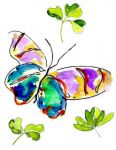 Editor's Note: Illustrations by Jill Butler and Abbey Jane Butler
Sometimes you've just got to leave home - to slow things down.
We can take our cue from"Randolph the Russian tortoise" whose motto could be "slowly but surely."
It's an idea I don't always appreciate, the "slowly but surely" concept of allowing the natural flow of discovery, experience and unfolding of one's life. My enthusiastic and impatient nature doesn't want to move slowly but surely. She wants it now. And yet, I keep experiencing the benefits of letting the world move along on its natural and rightful path.
I can't think of anything better for slowing it down than a stolen day out of school or the office and even leaving the safe confines of home. My parents used to snatch us out of school and carry us off to Chicago, our nearest big city. We went to see the first 3-D movie, go Christmas shopping, or to visit The Field Museum on Lake Shore Drive. This was their gift of time and experience, not of stuff. It had a different kind of value that's been long remembered!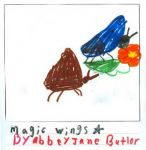 Last week niece, Abbey Jane, and Aunt Jill skipped school and went on our now annual Christmas outing. OK, we were a bit beyond the season. Did it matter? Not a pinch. The idea is for the two of us to create experiences that are uniquely ours. It's our time to hang out outside our everydayness. This year, I offered AJ a different choice for our outing but already last year's adventure has become our tradition.
AJ choose to revisit Magic Wings, a butterfly conservatory and gardens, in South Deerfield, Mass. The glass solarium and presentations are not particularly sophisticated as the word "conservatory" suggests. More importantly, they are an authentic, home-grown, probably a family business created by caring hands. Their gift is the experience of literally walking among thousands of butterflies from around the world. The butterflies are bred in the on-site greenhouses, and 70 percent of the grasses and flowers needed for their development are grown here. The staff is knowledgeable and want to answer your questions. They gently encourage you to feel the skin of an iguana, to take note of a preying mantis up close, or come to know the Atlas moth from Africa, the world's largest moth. (And you even get to meet Randolph.) The near jungle-like environment welcomes sitting patiently, waiting for a butterfly to land on your shoulder, in your hair, or on your knee.
Butterflies love color and AJ was as decked out as a rainbow. She was a definite magnet for them to land on. I was less colorful and had to wait (slowly but surely) for a privileged visit to my forehead, left eyebrow and eye. Talk about experiencing a butterfly... it was hilarious. My visitor sat quietly on my head and it had its magic effect of slowing me down.
I
brought along drawing and coloring materials and we set up our studio on a bench in a beautiful sitting area under an arbor of clematis in full bloom. Drawing requires paying attention to the details, a concentrated looking at the surroundings. We sat patiently and watched what was before us. AJ was exuberant with her markers - just like her outfit and I sketched Randolf the Russian tortoise, which I thought was particularly poignant …slowly but surely. Randolph came by, paused, then wandered into the giant ferns for a few nibbles and a snooze. There's no rush, grabbing, or snatching with this fellow.

Every visit to a museum "requires" a visit to the gift shop. UGH! I'm not a fan of shopping for something to take home; more junk, more stuff, more things to break, throw out, and feel guilty about having bought...a souvenir of what? Abbey Jane is sensitive with her choices and what they cost, so sweet and considerate she is; finally, she chose who knows what. I groaned and couldn't resist registering my "are you sure this is what you want"? A turn of the head and a row of simple containers catches our eye. These containers are miniature hothouses, unsophisticated and obviously handmade, containing butterfly larvae and simple instructions on how to care for and nurse these larvae into butterflies. Suddenly, we knew this was to be her gift choice, and oh, how good we both felt about this choice.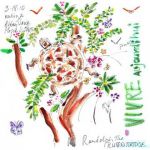 AJ immediately adopted her butterflies, cradling them the nearly two hour drive back to Essex. Abbey Jane loves Magic Wings so much, www.magicwings.com, she's declared she'll be married here. Looks like we'll be going there a lot: she's 9 and wants to get married at 29. You do the math.
Our choice had meaning, our experience was unique and there will be more to come. Let the years pass slowly - as surely, we've just begun.
Editor's Note: Meet other women who have experienced one of Butler's Creating Your Vision workshops for a free wine and cheese Open House in her Chester studio, Tuesday, April 27, 6-9 p.m. For reservations and information, e-mail: This email address is being protected from spambots. You need JavaScript enabled to view it.. or call, 860-526-5155.
Butler will give a talk at the Guilford Free Library, May 13, at 7 p.m., titled: "When We're Dealt Lemons, What Can We Create?" (lemonade is just one choice). Jill is the author of "Create the Space You Deserve," as well as three illustrated French guide books. The program is free. To reserve, please call the library, 203- 453-8282, 67 Park Street, Guilford.