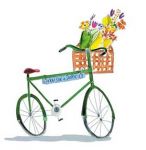 Spring has officially arrived, the calendar says. And not a moment too soon.
I'm inspired by the flyer that my friend, Mary, hands to me. The flyer is lovely and came from Chester based, Gardens by Guido Liberatore. On this flyer is a quote from the Swedish Hallmark Card illustrator, Marjolein Bastin. The quote reads:
"There are times
when our spirits
fade to brown...
yet dormancy allows time
for rest and renewal
and surely as spring returns
to the garden
creative energy sprouts anew."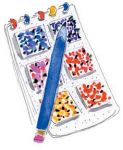 Since we can't quite yet get to the garden, there's a window of opportunity to change what's brown and worn out inside our homes. I call it "the big sweep season!" Why bother one may ask? Or, how and where to begin? The idea of moving your furniture around in order to get a fresh view or perspective on life is offered by Joan at the Wheatmarket. I like the idea of a new view from my sofa, plus once the furniture is moved I'm motivated by what I discover underneath. Dust bunnies, a lost earring, and Christmas ornaments chased under the sofa by the cat are potential lost 'n founds. Once you've moved the furniture, you're on your way to THE BIG SWEEP.
A pack rat in a recent "vision workshop" I give (for more: http://www.jillbutler.com/Coaching.html) was trying to clearly state her vision for her next new chapter of her life. What she said she wanted to create did not resonate as authentic. There was no juice - no energy supporting her dream. She stabbed at it, she pretended, she spoke with forced intention, and still it rang hollow. Having journaled for several weeks around her imagined dreams, she met her demon.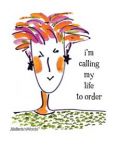 She bravely announced to the group, "I am a pack rat. I came from a pack rat family. My husband is a pack rat and I am raising two pack rat children." That acknowledgment opened the floodgates of relief. She decided before she could create anything new she needed desperately to clear away the family "treasures" she had inherited, most of which were sitting in her potential office/studio since 1998. Included were boxes of her family's paid bills, loan agreements, and old bank statements. She thought she needed to shred them. It was decided that as her parents were long deceased burning them was more than adequate or simply taking them to the dump with no further investment in their guardianship would be A-OK. Shredding is time consuming and might have become an avoidance tactic. The real treasures of a few selected family mementos are now carefully packed, marked, and moved to the attic.
She relates how once her clutter demon was revealed she wasted not a second more as she and her husband began the process of clearing the dead history. In her office, she discovered enough file folders to stock Staples. One problem of clutter is we tend to buy more of what we already own but just can't find! This clearing prompted her husband to refinish the floor for her. In-between the wait time, she cleaned out the bedroom and painted it. They became an unstoppable and enthusiastic team. She repurposed bookcases, a credenza, and a table stored in the garage for her new office worktable. Note - the worktable is not the desk. The worktable is where projects get created and spread out for an overview and worked on. Projects are not welcome to accumulate here. This is not their final resting place. Once completed they can be housed in a notebook, in clear boxes for easy visual access, leaving the worktable clear for the next project. The desk houses the computer and the paper work of life. Papers are handled, filed, or put into clear folders for easy retrieval. They're best not stored on the desk top.

Now that the old has had it's "big sleep" and you've decided to wake it up and move it out with the "big sweep," there's room for the brown that's all around us to turn to the fresh colors of spring; daffodil yellow, lime green, hyacinth. Spring, after all, is the season of renewal and new beginnings. So treat yourself to a new broom!