By L.E. Agnelli
Special to the Times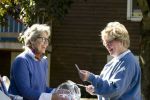 The Chester studio of artist Jill Butler brings to mind a pretty Parisian warehouse, the east wall stacked high with her colorful, French-inspired tabletop collection.
Her latest creation, Food for Thought cards, are yet another playful inspiration, featuring her whimsical artwork, but with a message.
and confident, with a pixie-ish mop of salt and pepper hair, some say Jill Butler is Chester's answer to Martha Stewart – with her business savvy and signature home design flair, which she has successfully branded and marketed.
But it was a personal tragedy that led to this latest creative endeavor.
"When my brother, York, was dying, I asked the universe, 'What can I do?' and it said, 'Pick up a Sharpie!'" In 2006, Butler had already written three books and designed a nationally distributed French-inspired tabletop (The Jill Butler) collection. Butler has been called
The compulsion to doodle characters with a Sharpie pen hit Butler like a fever: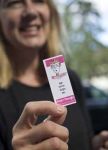 "I don't draw people, but what came were these characters with things to say. I called them 'Birds of a Feather.'" Once drawn – flying out at an average of 40 an hour – Butler added watercolor to these postcard-sized panels. After four months, she'd created 2,483 of them. Owing to her business genius, the "Birds" went on sale for a $25 contribution, which was the start of the York Butler Fund (administered by the Middlesex County Community Fund), which supports the creative arts.
"We soon had donations of over $10,000. The 'Birds' had locally become the gift to give for Christmas 2006." Butler's studio is in Chester, and she has a home in Ivoryton. Today, a portion of all JillsBirds'nWords® sales goes to the York Butler Fund.
The real gift, ultimately, was a richer bond between sister and brother. "In the dying process, I found my older/younger brother." As the "Birds" hatched, brother York would look forward to seeing the new characters and their sayings.
Today, the Food for Thought card collection keeps Butler connected to her brother, York (who died in July 2007) and close to her niece, Abbey-Jane Butler.
"These little characters – the "Birds" – communicate something in ways like e.e. cummings or haiku poetry, which I love," Butler says. They speak in "both a personal and universal voice." They resemble people everybody knows.
There's a pale, smiling, redcheeked girl with a long face, glasses, shoulder length hair with red highlights (like me!) saying, "ready for an upgrade." How about the shocked-looking guy with the red and pink face, spikey orange hair and the huge red ear: "I am listening loud"? Then there's a white faced, green cheeked androgyne with serious look and a headful of flowers: "I'm a reformed environmental hazard."
The "Birds" debuted in Butler's 2008 book, "Create the Space You Deserve" (Globe Pequot Press). Quotes in the book were accompanied by a "Bird" character, thus unifying the book design with friendly and fanciful drawings. They're colorful, cartoonish squiggles bursting with personality.
Eventually the sayings and JillsBirds'nWords® morphed into her Food for Thought personalized trading cards. Sayings on the 1-by-2¾-inch cards (imagine a business card snipped in half the long way) run from the playful to the profound. Many are also double entendrés.
"There's one, 'Age never stops me,' and it's great because it resonates with an older or a younger person. Kids especially seem to relate to it." These cards are "interactive communication tools with applications for business, social groups, one on one connects, and individual enjoyment."
The Food for Thought cards with JillsBirds'nWords® can be sold in different amounts and thematic groups, with personalized information on the back, sold with or without the antique-inspired candy jar.
But these "Birds" began five years ago. Why the big push now?
"These characters needed to rest for a few years because they – and I – needed to mature. The fear that somebody is going to steal them had to be let go." In a wise move, Butler protected her intellectual property rights – and allayed fears – by registering the trademark.
Before becoming the creative entrepreneur of her design kingdom (www.JillButler.com), Butler worked in New York City with designers like Vera, where she became the first woman VP and executive vice president in the home furnishings industry. She grew up in Kalamazoo, Mich., and graduated Stephens College, Columbia, Mo., with a degree in communications and marketing.
That invaluable business experience helps her be the ultimate, in Andy Warhol's words, "business artist."
"So many artists know how to create, but not so when it comes to sales and marketing." Butler turned to drawing as a self-taught artist in her 30s while living in Paris, France. When she gave up her "big corporate job" in the city, she reclaimed her soul and found herself.
"I've walked 67 years on this planet and I've been an experiential learner my whole life. What I do in my life is I walk my walk and then I share (teach) it." In the end, "Yes, of course it's work – and I put in tons of hours. But I get to do what I love, so it's not work. And now it's balanced."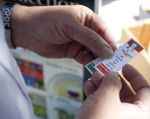 "We all have a reason for being here that we barely know and if we're fortunate we find the gift we can give back." Butler doesn't feel lucky so much as "fortunate enough to be attuned to what she creates," and it helps that she's "the most tenacious person on the planet." She starts her day with meditation, breakfast, writing, and her Food for Thought cards. "I show up. I'm available. I'm open."
While Jill Butler's Food for Thought started as an almost "magical" inspiration and answer to a prayer, the cards have become tools to spark communication in fun yet meaningful ways. Used as icebreakers, as business cards, as daily inspirations, these Food for Thought cards hit the spot.
And, you might have seen a crowd of onlookers clustered around Butler where she was holding court at a folding table set up on the sidewalk in downtown Chester. During a recent market day, passersby would stop and pick out their favorite Food for Thought cards. But the idea is, you don't hold onto the cards, but pass them on to friends and acquaintances and swap 'em.
For more information, visit jillbutler.com. or email Jill Butler at This email address is being protected from spambots. You need JavaScript enabled to view it..