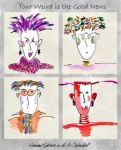 Don't know about you but I'm having trouble with the changing of the season. Yes, I love the colors coming in and/but the late afternoon light disappears way too early and is not making me a happy camper. That said, the best of the season of leaf-peeping is yet to come. Just in case you're wondering where in all of New England to see the best leaves and when, Yankee Magazine's recent issue just named Kent, CT the best town in New England for fall foliage.
At the Chester Gallery last Friday for Come Home to Chester Night we dropped in at The Chester Gallery. Leni Herschman cleverly mounted a show titled, iSee, featuring photos from nature; lots of leaves and natural wonders taken on her iPHONE. In and amongst nature's color there was an odd shot that struck a cord; a photo of an antique sign that hangs in Leni's kitchen and reads: "Know Your Weird." For some weird reason, the nature of the nature scenes made a connect for me with the sign, "Know Your Weird." Nature's way is not be weird but it certainly is uniquely unusual. We had fun bantering about our individual weird and what the nature of our weird was for each of us.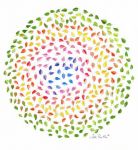 I asked a new friend if she were ever called weird and she said, "yes all the time". I think this is the good news. She appears eccentric, quiet, and curiously different! She's unique being from a foreign country, speaks at times with an accent, and smiles easily; in New England that alone could be considered weird. I want to know her, to know her story. She is likely weird and wonderful.
We're all weird and wonderful and by embracing and getting to know ourselves in this way, it makes life easier and much less judgmental. It is freeing! Our weirds aren't shameful but rather to be honored and respected. If someone calls you weird, or your actions weird, stop and think about that and discover something creative about yourself that you may never have seen before. It's likely something weirdly awesome. Explore the clue, take it in amused and strut your stuff.
Every tree species like every person has its' unique shape, coloration and behavior. It may not be called weird but rather ~ magnificent.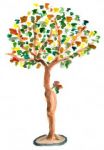 There is no explanation for weird. The "Know Your Weird" sign suggested we get to know ourselves in an off-beat way. I like the idea of naming and embracing my weird. It's a relief to know we can be similar and uniquely different. What weird part of me is attracted to you and your weird? What a great way to make a new friend; find their weird, and get to know it. In the meantime, you may make friends with your own, weird-ness.
If you're finding this piece weird, let me know, and in what way. If you're finding me weird, that's good too. Just remember that what we see in others is often what we either see, or want to see, in ourselves and thus begs the question, just how weird am I? Just how weird am I willing to be? Is he, or she, being and doing something weird that I want for myself? "Know Your Weird"; human nature in all its' splendor®.
Editor's Note: The Chester Gallery Show will be showing Leni Herschman's work through the month of November.