More Articles from the Shoreline Times
Shoreline Times Columns
Writing and illustrating a local news column, now in its' fourth year, focuses on life, transformation, vision, dance, home, clutter, creativity, family, friends, and relationships. The material springboards from my book, Create the Space you Deserve, the Creating Your Vision Workshops, and everyday life. Stories get told from around the campfire, while pulling weeds, or from the porch with the girls. For the whole story, click on a column below. Or go on-line, to read the most recent stories from the
New Haven Register's ShoreLineTimes
. The Times reaches 66,000 households along the Connecticut coast.
A Slow-down Day…skip school…Nature delivers
What does it take to slow me down? Nature deliveries; it slows us down, like it or not! With weather, we lose all control as experienced particularly this winter. It was the good news, a relief that we were for a change out of the driver's seat. Nature had delivered and had her way. I was relieved to have an opportunity to write, meditate, read, and do something outrageous, i.e., take a nap, like go back to bed and skip school. How delicious. The office would still be there tomorrow.
Control is definitely overrated, an illusion says she who likes her stuff in order, to know what is happening when, where, and with whom, and at what time. I admit, this is a part of who I am, the ever-prepared Girl Scout. And/but ultimately, I know we have little control over much of anything, or maybe none at all. We can dream of having it all in place all of the time but life has its' way and brings what it brings. These slow-down moments when we're out of our routine are times to be in gratitude for a break.
Dish it Up - Time to Clean your Plate for 2013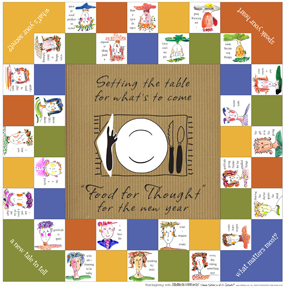 What are we waiting for? What are we not seeing? What are we holding onto for dear life?
It's time to clear the table (metaphorically, that is) to make way for all new questions and actions. What I love about this season is that we get to set the table anew.
My facilitator friends and clients at General Electric in their Leadership Practices program call this table setting, forecasting the future. What will we choose to dish-up next?
Gather around the table for "Food for Thought"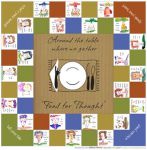 I may not cook particularly well but I love the idea of "food for thought". It's a way to appreciate those who cook by sharing in thoughtful conversation around their table. Having spent years in various Thanksgiving scenarios from Kalamazoo, Michigan to Paris, France, I never know what to expect. What will the holidays look like this year? Where will I be, and with whom? This year, I know I'll be with my partner's family. This is already a beautiful thing though somewhat anxiety producing. What can I expect? What are their expectations? Who is this tribe that I am coming to know? What are their traditions and ways of being?
Change of season…know your weird! Human nature and all its splendor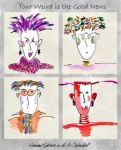 Don't know about you but I'm having trouble with the changing of the season. Yes, I love the colors coming in and/but the late afternoon light disappears way too early and is not making me a happy camper. That said, the best of the season of leaf-peeping is yet to come. Just in case you're wondering where in all of New England to see the best leaves and when, Yankee Magazine's recent issue just named Kent, CT the best town in New England for fall foliage.
Read more: Change of season…know your weird! Human nature and all its splendor
A Life Coach and What She Learned at Camp
What I Learned at Summer Camp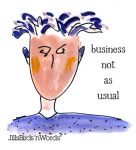 I love questions. They cause me to stop and consider. They kick me into action. They're a way into a conversation with myself and others.
My most recent personal challenging question was: how can I connect three things that I love; summer, camp, and learning into one (very) short vacation?The answer to the question arrived in the mail in the form of a course catalog. I've always wanted to go to the Omega Institute in Rhinebeck, N.Y. Omega is a learning center, on a lake, in the woods on what they call a campus. For me, it was adult camp with all of the elements of camping; tent cabins, grounds for pitching your own, cabins fully furnished, a dining hall with a porch and giant round tables encouraging conversation over naturally organic and delicious vegetarian food. It is here that I found my tribe and in the class I choose called, "Shapeshifting into Leadership", facilitated by NY Times best selling author, John Perkins, for more about Perkins, www.johnperkins.org.