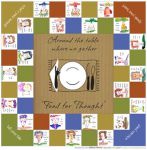 I may not cook particularly well but I love the idea of "food for thought". It's a way to appreciate those who cook by sharing in thoughtful conversation around their table. Having spent years in various Thanksgiving scenarios from Kalamazoo, Michigan to Paris, France, I never know what to expect. What will the holidays look like this year? Where will I be, and with whom? This year, I know I'll be with my partner's family. This is already a beautiful thing though somewhat anxiety producing. What can I expect? What are their expectations? Who is this tribe that I am coming to know? What are their traditions and ways of being?
Gathering round the table is the place where we can share good food and good conversation; one on one, eyeball to eyeball. It is here where we can settle into precious moments off the media and out of the office with our agendas put aside. Are we curious about others and their stories and interests, or are we just eager to tell, and to hear, our own? There is a prize to be found in our curiosity, it's called communicating…sharing and seeking to understand each other's thoughts and feelings. It's an opportunity to connect and create well being. When we are willing to share we are often given "Food for Thought" and the ah ha's can be profound.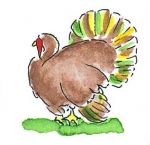 So, I'm curious; who will be at this Thanksgiving table? Who is this tribe? As a mid-westerner, I'm known to be extremely curious and probably ask way too many questions. My personal challenge is to listen. Listen with an attentive ear. Listen to hear how others express themselves; the who they are will emerge. Hear what's not being said. Hear their hearts and passion speak. I want to remember: "talk is cheap and in listening is where the value resides".
This is the season of giving thanks. Gratitude for friends and family is particularly in focus. We may choose to be quietly grateful in our own personal way. Our gratitude may be appreciation for unexpected kindness and benevolent offerings from others. It may look like a personal acknowledgment for how we choose to step-up for ourselves in our personal growth. This kind of courage is worthy of our acknowledgment. Our gratitude might also be for the fun, joy, humor, and the unexpected that has come our way.
And while we're at it, let's consider that thank-you is an expression of gratitude that seems to eclipse the radar in our everyday transactions. Thank-you scarcity is sad notion. Cryptic e-mail messages, our shorthand language, and in our busyness, how many times do we forget to take a deep breath, look someone in the eye, and say, thank-you? Does anyone remember writing thank-you notes? In my world, it was demanded to do so. These notes were called, bread and butter notes; a hand-written thank-you note for a lovely meal, or a sleep over as a guest in a friend's home. A thank-you stops us long enough to realize our appreciation for time spent together or for a service offered. It completes the exchange and gives it greater value by having acknowledged it.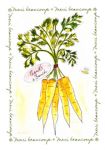 We could decide to make gathering around the table for "Food for Thought" a daily practice. As a kid, there was no question about our family of four sitting down for dinner. It was during this meal that we were quizzed and "encouraged" to talk about what was going on in our respective worlds of school and outside activities. My partner describes these dinner table conversations as opportunities for renting space in his kids' brain; here was the chance to plant ideas and pray that when a questionable situation arose they would hear a voice of wisdom and make the better choice; "Food for Thought" on the spot.
Whether we're family by birth, relationship, friendship, or "simply" being here on the planet at the same time, we are ALL one. Bottom line: what we all want is to love and to be loved. We want to be happy and well in our being. It is worthy to take the time to appreciate who is at our table? With whom are we in relationship?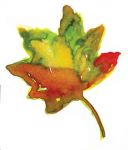 If gratitude is to be found in giving thanks for the smallest things then where shall we begin?
Editor's Note: Jill is offering a download of her "Food For Thought" illustration as a pdf. She asks that you keep in mind this is trademarked material and not for use in any other way than as a visual reminder for this season. You can send her an email at This email address is being protected from spambots. You need JavaScript enabled to view it. for your request.