More Articles from the Shoreline Times
Shoreline Times Columns
Writing and illustrating a local news column, now in its' fourth year, focuses on life, transformation, vision, dance, home, clutter, creativity, family, friends, and relationships. The material springboards from my book, Create the Space you Deserve, the Creating Your Vision Workshops, and everyday life. Stories get told from around the campfire, while pulling weeds, or from the porch with the girls. For the whole story, click on a column below. Or go on-line, to read the most recent stories from the
New Haven Register's ShoreLineTimes
. The Times reaches 66,000 households along the Connecticut coast.
Float like a butterfly: Slowing down time with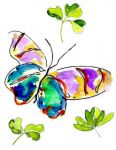 Editor's Note: Illustrations by Jill Butler and Abbey Jane Butler
Sometimes you've just got to leave home - to slow things down.
We can take our cue from"Randolph the Russian tortoise" whose motto could be "slowly but surely."
It's an idea I don't always appreciate, the "slowly but surely" concept of allowing the natural flow of discovery, experience and unfolding of one's life. My enthusiastic and impatient nature doesn't want to move slowly but surely. She wants it now. And yet, I keep experiencing the benefits of letting the world move along on its natural and rightful path.
Take time to smell the coffee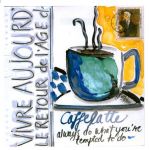 Vivre aujourd'hui, live today! Oh yes!
I cried out of sheer joy as I opened up the house/cottage
porch for the season. The 12 windows and door resisted a mega-second and then suddenly came the relief of fresh warm air, access to spring grass, fragrances of newborn flowers, sun sparkling through budding trees, birds chirping and calling to one another announcing the celebration of a gorgeous day to come. WHEW! I hadn't realized how closed-in winter, cold and gray, had dampened this spirit and how longing I was for this new beginning, a fresh start. Sometimes we have to go back to go forward.
Making a play date for yourself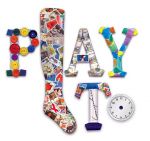 I walk through my cottage and am bombarded by the communiques from the art that's all around. The titles are telling. Letters From Lovers Who Never Wrote, a series that had a long run. La Communication, another. A favorite piece from this group has stayed behind obviously for its message and visual reminder. It reads: "stop the world ~ i want to get off."
My art has been "talking" to me for years. These collages and illustrations remind me of how I'm feeling, what's going on in my life, what am I thinking about the world.
C'mon get happy - learning to let happiness into your life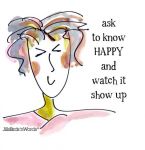 Do you live in the living room or in the waiting room? Every house has a waiting room. Maybe the entire house is one - the room where we hide and wait for life to begin. It's the room where there's nothing happening except TV, the media, or the hand-held devices that offer us passive but constant contact and broken connections.
Happy lives in the living room. Recently I met HAPPY and it was a shock! It's not often that we meet someone who is genuinely happy. I had to ask, "how is it you're so happy?" The response was, "I was born happy." I thought about that for a moment, and responded, "I wasn't born that way but I've arrived at happy and it's nice to meet you."
Read more: C'mon get happy - learning to let happiness into your life
We'll always have Paris...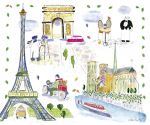 Paris… A window opened for just the right moment for a long weekend (five days) and a return visit to Paris after an eight year absence.
That's long for a gal who lived there for 16 years and who enjoyed an abundant experience of friends, love, art, and wonderful creative projects, as well as the chance to live in the most beautiful city in the world (my opinion).
I was ready to reconnect with my earliest years spent in Paris as a "bachelor" 30 years ago. I was ready to remember why I so loved Paris, the people and places I had known early in this relationship.